Welcome to Our Website!
Thank you for your interest and desire in learning more about a Living Trust. We are genuinely interested in helping you better understand the importance of a Living Trust and proper estate planning. We can help guide you through the planning proces that could save your loved ones unnecessary expense and a tremendous amount of time-consuming complications.
About Us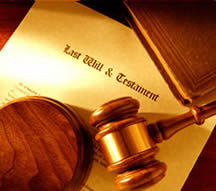 Legal Production Service (LPS) was founded by Theron Murphy in Simi Valley in 1989. Steve Murphy joined LPS in early 2005, after spending eleven years with a law firm in Santa Clarita. The two worked together until Theron's passing in December of 2008. Together they have prepared over 2,600 Living Trusts.
Having met with thousands of clients, our experience is based on the practical utilization of a Living Trust and other important estate planning documents. Our knowledge and experience have helped many individuals and families design a Living Trust tailored to their specific family needs. The services we provide assist you whether your family is facing an illness, an untimely death, or just planning for your future. As a licensed California attorney, Steve can also represent others who have come to him too late and may be involved in the probate process.

Steve was raised in Simi Valley. He and his wife, Shauna, were married in 1989 and have chosen to raise their family of three boys and two girls here as well. Steve has been involved with numerous community activities and has given service at various different local organizations over the years.
Testimonials
"LPS was very professional and courteous. They made the process simple and understandable. When the process was finished I had peace of mind that my estate was in order. I would highly recommend their services to anyone."
-Shirley Baldega -Retired Simi Valley School teacher
"Legal Productions, aka Steve and Karen, have been there for me professionally, financially and personally the past 12 years. Being alone, taking care of my invalid mother, I appreciate that they don't give of themselves 100% but 1,000%!"
-Linda Rohn -Simi Valley resident
"I dreaded the process of setting up a living trust. LPS made it easy, quick and understandable. In a short period of time we had peace of mind knowing that our estate was in order. I would highly recommend their services."
-Eric Johnson -Firefighter, Simi Valley resident